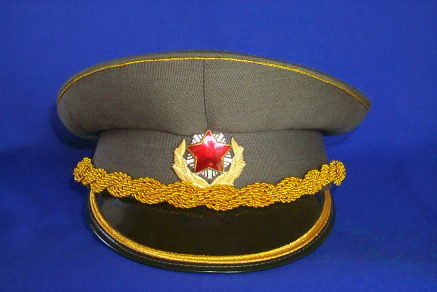 ユーゴスラビア社会主義連邦共和国陸軍の将官用の通常の制帽です。
将官用の制帽は、帽章とあご紐が他の尉官、佐官用と異なります。
将官用の帽章は赤い星の周りに金色の月桂樹の葉飾りが付けられています。
また、他の将校用のあご紐は黒革ですが、将官用は金色の紐三本を
縒ったあご紐が付けられています。また両脇のあご紐を止めるボタンも連邦の
紋章が施されています。

The service cap for General officer of Army of Socialist Federal Republic of.
Yugoslavia. The cap for general officer has different cap emblem and chin strap
with service cap of other grades officers. The cap emblem for general officer has
golden wreath of laurel leaves around red star. And the chin strap for other grades
officers is black leather but it for general officer is golden chin strap with three golden
twisted cords and special buttons for fixing chin strap with federal seal..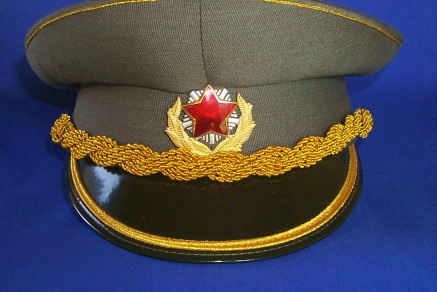 帽章と鍔の刺繍の拡大写真です。

Above photo is enlarged one for cap emblem and visor embroideries.