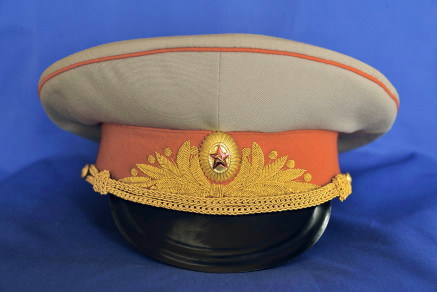 旧ソ連(ソビエト社会主義共和国連邦)の陸軍兵科元帥将官用礼帽です。
カーキ色の勤務用と、シーグリーンのパレード用礼帽の他に、儀礼用の
グレーの礼服用の礼帽が有りました。この礼帽は1969年から1980年
の間に規定されていた、円形章の周りのローレルの葉と実のリースの刺繍が
豪華なタイプの礼帽です。帽子の本体はグレーの礼服と同様グレーで、
クラウン部に兵科の赤いパイピング、フレームには同様に赤いバンドが
巻かれ、将官用の円形章に14枚のローレルの葉のモール刺繍が施されて
います。このモール刺繍のリースのパターンは、ソ連邦元帥用のグレーの礼帽
のデザインと似ています。鍔はエナメル加工のものとは異なり、黒い塗装が
施されたファイバー ボード製となっています。顎紐は勤務用制帽と同様編タイプ
となっており、両サイドの留めボタンは連邦のシールが施されています。

The parade walking-out cap for Army Marshals and General Officers of U.S.S.R.
Army Marshals and General officers had gray parade walking-out cap for gray
dress uniform in addition to khaki service uniform and sea-green parade uniform.
This type of parade walking-out cap was on regulation during from 1969 to 1980
then have gorgeous laurel embroidery wreath around cockade. The collar of
cap body is gray with gray parade walking-out uniform and red piping is
given around cap crown then red band presenting department color is
also given around cap frame with special cockade for general officers.
The embroidery wreath of laurel leaves and acorns has 14 leaves around
cockade which is similar design with embroidery wreath for parade walking-out
cap for Marshal of U.S.S.R..The cap visor is not patent leather type but made
of black lacquered fiberboard. The chin strap is gold woven type with service
cap then attached button in both side are molded emblem of U.S.S.R.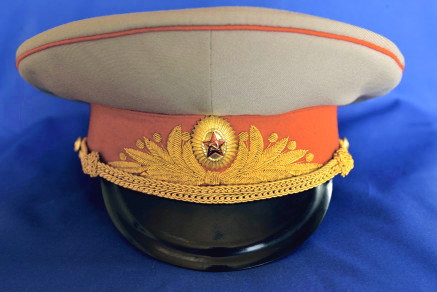 帽章と顎紐の拡大写真です。

Above photo is enlarged one for cap emblem and chin strap.