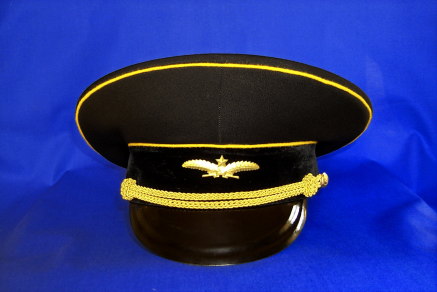 旧ソ連(ソビエト社会主義共和国連邦)の外交官冬期用の礼帽です。
外交官は軍官ではなく文官ですが、旧ソ連では制服が存在しました。
軍服のように肩章、袖章を付け、制帽を着用する華美なものでした。
1950年代半ばには公式には廃止されましたが、その後も大使等の高級
外交官によってパレード等で着用されていました。冬期または、通常は
黒の制服が着用され、夏期または熱帯地域用に白のタイプが存在
しました。
この冬季の外交官用の制帽は1970年代のものです。生地は黒で、
バンドとクラウン部には黄色の縁取りがされ、2本交差した椰子の木の枝と
5点星の帽章が付けられています。顎紐と帽子の鍔は将官用と同様に
編みタイプの顎紐とファイバー製の鍔になっています。顎紐を留める両脇の
ボタンは将官同様、ソ連邦の紋章になっています。
The cap for Diplomat of U.S.S.R, winter/dress version. U.S.S.R's
Diplomats and officials of Ministry of Foreign Affairs had their own
uniforms although they were not military but civilian. Their uniforms
were attached shoulder board and cuffs embroidery with their
appropriate rank then also prepared dress cap so it looked gorgeous
like as military uniforms. Officially they had been terminated around
middle of 1950 but it sometimes worn by high ranked Diplomats like
an Ambassador for the ceremony after their termination. In the winter
or normally they worn black version then for the summer or tropical
area, they had white version. Probably this cap is issued around1970.
The cap is made of blackcloth then attached yellow piping around
cap crown and cap band and also attached cap emblem designed basis
two crossed palm tree branches with 5 pointed star. It's attached knit
type chin strap and fibered enfored visor same as general's visor cap
issued same era.. Two buttons to hold chin strap in the both side are
moldedwith emblem of U.S.S.R on the surface.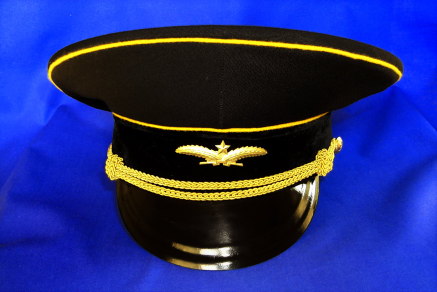 帽章と顎紐の拡大写真です。

Above photo is enlarged one for cap emblem and chin strap.