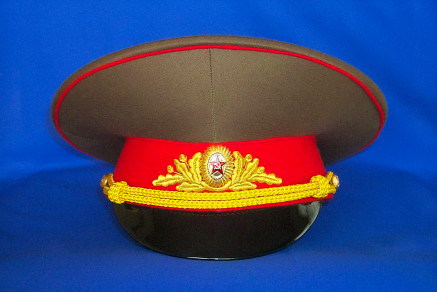 旧ソ連(ソビエト社会主義共和国連邦)連邦元帥用制帽です。ソ連軍
の最高位の連邦元帥は他の兵科元帥や将官とは異なったデザインの
刺繍が施された制帽を着用しました。色は陸軍の将校用と同じ
カーキグリーンで、歩兵科と同様クラウン部のとフレーム部のバンドが
赤となります。将官用の制帽と同様、赤い星が別のパーツとなっている
将官用コカルデが取り付けられ、コカルデの周りには金糸刺繍の
オーク葉と団栗を表したリースが施されています。鍔は表面がエナメル
加工をされたタイプで、顎紐は金の網紐タイプのものが取り付け
られています。顎紐を止める両側のボタンは連邦の紋章付きのものと
なっています。
The service cap for Marshal U.S.S.R. The rank " Marshal of U.S.S.R"
is a highest rank of Soviet Armed Forces then officers ranked such
highest rank wear the cap which has different patterned embroidery
with other Marshals and Generals. The color of cap body is khaki green
same with army officers' then red piping and red band are given around
cap crown and cap frame same with Marshals and Generals of infantry.
The service cap for Marshal of U.S.S.R has also special cockade for
general officers which is constructed from red star and round golden shield
separately then wreath of oak leaves and acorns with gold thread
embroidery is given around cockade. Attached visor is black patent type
without embroidery then gold woven cord is attached as chin strap.
Two buttons to fix chin strap in the both side are molded with emblem
of U.S.S.R on the surface.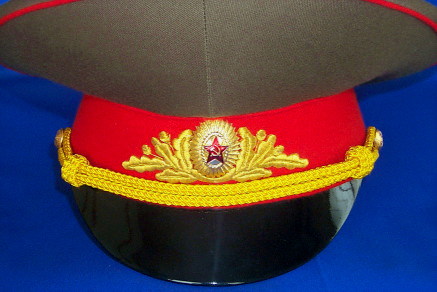 帽章と顎紐の拡大写真です。

Above photo is enlarged one for cap emblem and chin strap.