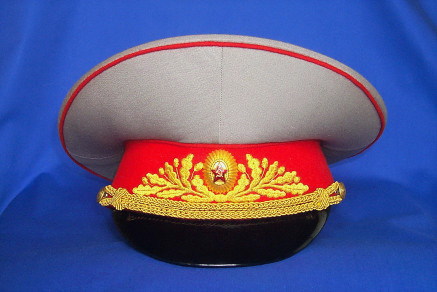 旧ソ連(ソビエト社会主義共和国連邦)連邦元帥用礼帽です。シーグリーン
のパレード用礼装用の礼帽の他に、グレーのパレード/外出用の礼帽があり
ました。グレーのクロスに赤いパイピング、フレーム部には赤いバンドは通常
の将官用の外出用礼帽と同じですが、バンドに施された金糸の刺繍は将官と
異なり、連邦元帥を表すオーク葉と団栗の刺繍になっています。
また、勤務用の刺繍とデザインが異なり葉の枚数と団栗の個数が多くなって
います。金属製の帽章は星が独立している将官用のものです。鍔はエナメル
加工の皮製で、顎紐を止める両側のボタンは将官同様連邦の紋章付きのもの
になっています。
The cap for working out/parade of Marshal of U.S.S.R. There was gray dress
cap for working out/parade. The cap is made of light gray cloth and has red
band on the cap frame which is same as normal general officer's working out
/parade cap but embroidery on red band around cockade is oak leaves and
acorns which is not bullion but gold thread. The oak leaves and acorns are the
symbol of Marshal of USSR.which is different point with normal general officers'.
And the number of leaves and acorns are different with the number of service
cap. The attached cockade is for general officers which has separated star on
itself. The cap visor is patent leather visor. Two buttons to fix chin strap in
the both side are molded with emblem of U.S.S.R on the surface.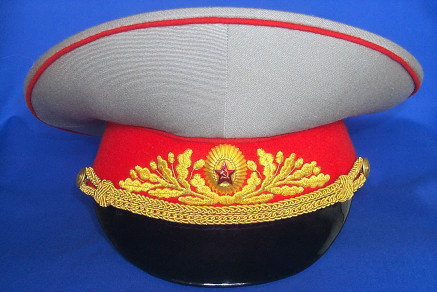 帽章と顎紐の拡大写真です。

Above photo is enlarged one for cap emblem and chin strap.