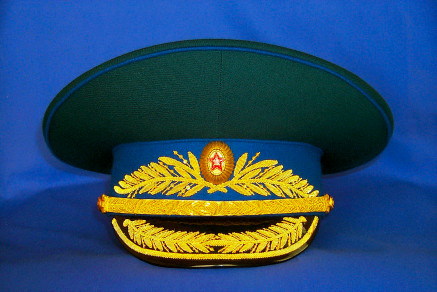 旧ソ連(ソビエト社会主義共和国連邦)国家保安委員会( KGB )将官用礼帽です。
KGBの礼帽は陸軍の礼帽同様シーグリーンと呼ばれる青緑色の生地で作られ、バンド
の周りとパイピングはKGBの科色の濃い青色(ロイヤルブルー)でした。旧ソビエト連邦
や旧共産主義諸国の所謂秘密警察と呼ばれる組織や保安警察機関のシンボル
カラーはロイヤルブルーと呼ばれる深く鮮やかな青色でした。バンド、皮製の顎紐、
エナメル加工された鍔には月桂樹の刺繍が施されています。金属製の帽章は星が
独立している将官用のものです。顎紐を止める両側のボタンは連邦の紋章付きのものに
なっています。
The cap for KGB General of U.S.S.R, for Parade. The dress cap of KGB is made
of blue green cloth called sea green same as dress cap for Army then attached cap
band and piping colored deep blue( called " Royal blue " ) which color was department
color of KGB. Some organizations and security police forces, they called " Secrete
police " generally of USSR and other communistic nations had symbol color which was
deep and bright blue which is called " Royal blue ". The embroidery of laurel leafs are
given on the cap band, leather chin strap and patent leather visor. The attached cap
emblem is for general officers which has separated star on itself. Two buttons to fix
chin strap in the both side are molded with emblem of U.S.S.R on the surface.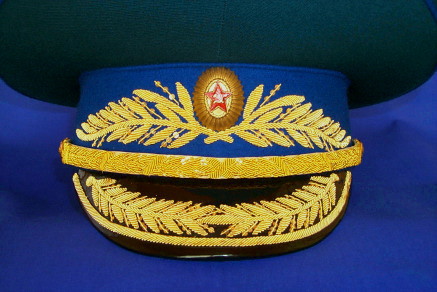 帽章と顎紐の拡大写真です。

Above photo is enlarged one for cap emblem and chin strap.