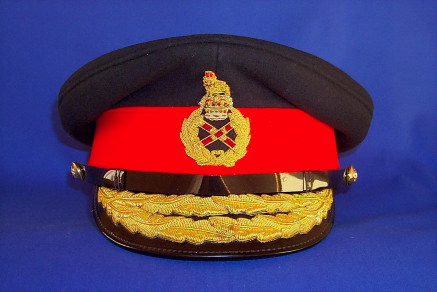 英国陸軍の元帥用礼帽です。礼帽は紺色で、赤いバンドがフレームに
巻かれています。将官用と元帥用では帽章が異なり、将官用は帽章
の中央に交差した杖と剣、元帥用は交差した杖が配され、月桂樹の
リースの頂上には王冠と王冠を冠ったライオンが配されています。
鍔には二列の樫の葉の刺繍が施されています。顎紐は海軍や空軍
同様黒革の顎紐が取り付けられています。


The dress cap for UK Army Field Marshal. The color of dress cap
is dark blue then red band is attached around cap frame. There is
different point between the cap for general officers and marshal.
The center of cap badge for general officer is crossing sword and
staff then for marshal is crossing staffs.
And a crown and a lion wearing crown are given on the top of laurel
wreath. The two rows of embroidery of oak leaves are given on the
cap visor. The attached chin strap is patent black leather same with
Navy's and Air Force's caps.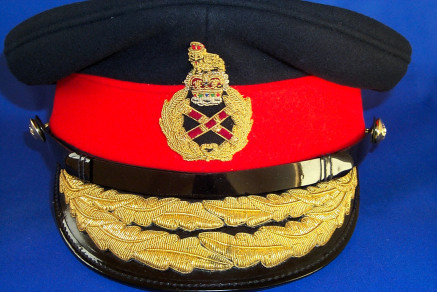 鍔の刺繍と帽章の拡大写真です。

Above photo is enlarged one for visor embroideries and cap badge.