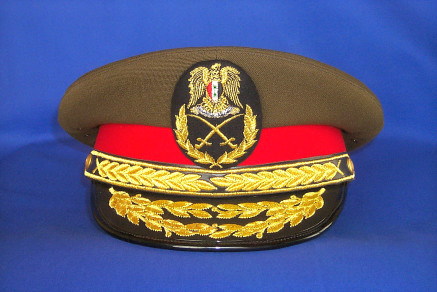 シリアアラブ共和国陸軍の将官用制帽です。帽章は黒地に交差した剣と
月桂樹のリース、シリアの国家紋章のシリアの国旗の楯を抱いた鷹と
アラビア語で"シリア アラブ 共和国と書かれたリボンが刺繍されています。
本体はカーキ色ですが、フレームには赤いバンドが巻かれ、顎紐には
月桂樹の刺繍が施されています。また鍔にも同様に月桂樹の刺繍が
施されています。

The cap for General Officers of Army of Syrian Arab Republic. The cap
emblem is attached black cloth then crossed swords, laurel wreath and
a hawk which is holding a shield of Syrian national flag. and a ribbon drawn
the word " Syrian Arab Republic " with Arabian as coat of arms of Syrian
Arab Republic are given as embroidery with gold thread. The cap body is
Khaki but red ribbon is attached around cap frame. Laurel branches are
given on chin strap and cap visor with gold thread.


帽章と鍔の刺繍の拡大写真です。

Above photo is enlarged one for cap emblem and visor embroideries.