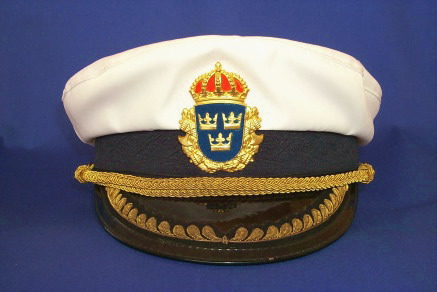 スウェーデン王国の警察長官用制帽です。金属製の帽章は、スウェーデン
警察の紋章を表しています。紋章の中央にはスウェーデンの象徴である、
3つの王冠が表された青い楯が配されています。楯の周りにはオーク葉の
リースと交差した束桿(ファスケス)、頂上には王家の王冠が配されています。
 フレームにはオーク場のレースが施された黒いバンドが巻かれ、金色の編式
のアゴ紐が付けられています。鍔には月桂樹の葉の刺繍が施されています。

The cap for Police Commissioner of Kingdom of Sweden. The metal cap badge
is presenting the coat of arms of Sweden police. The coat of arms has blue
shield given three royal crowns as the national symbol of Sweden.in the center of
itself. The wreath of oak leaves and crossed fasces are around of shield then
royal crown is given the top of shield. The black band given lace of oak leaves
is attached around the cap frame and gold cord is attached as chin strap.
Embroidery of laurel leaves are given around fringe of cap visor..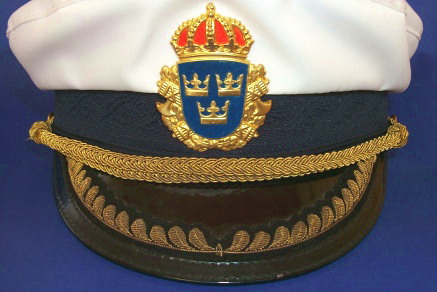 帽章と刺繍の拡大写真です。

Above photo is enlarged one for cap emblem and embroidery..