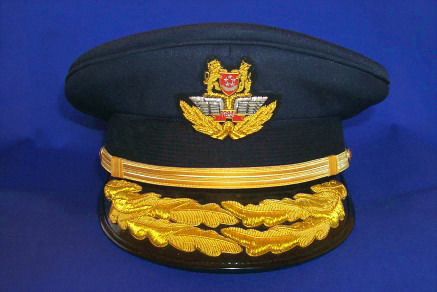 シンガポール共和国空軍の将官用制帽です。帽章はシンガポールの
国家章同様、ライオンと虎、5星と三日月が書かれた赤い楯に、空軍を
表す銀色の翼、その下の赤いリボンにはシンガポール共和国空軍を表す
RSAFが書かれ、月桂樹のリースが下部にあしらわれています。青い生地
のクラウンにフレームには黒いバンド、アゴ紐は金色のものが付けられています。
鍔には将官を表す2列のオーク葉の刺繍が施されています。

The cap for Air Force General of Republic of Singapore. The cap emblem
has a lion and tiger then red shield drown five stars and a new moon same
as coat of arms of Republic of Singapore . Silver wings are under them with red ribbon
written RSAF logo which presents Republic of Singapore Air Force then laurel
wreath is given bottom of them. The color of cap body is blue then black
band is attached around cap frame. Gold chin strap is attached. Two rows
embroidery of oak leaves for general officer is given on the cap visor..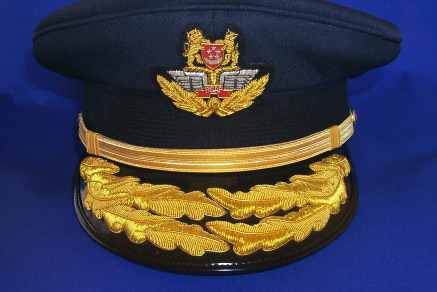 帽章と鍔の刺繍の拡大写真です。

Above photo is enlarged one for cap emblem and visor embroideries.