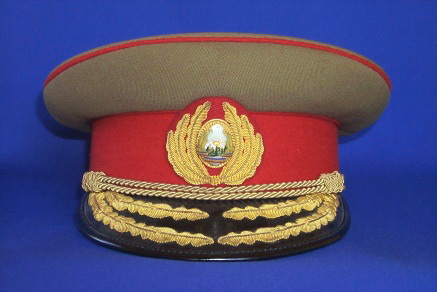 ルーマニア社会主義共和国、陸軍将官の勤務用の制帽です。制帽はカーキ
の生地で、バンドと帽章の台地は赤の兵課色になっています。帽章の中央には
ルーマニアの国土を象徴する自然(太陽、森林と山)が描かれたバッジ、周りに
はオーク葉の刺繍が施されています。また、鍔には2列のオーク葉の刺繍が施さ
れています。

The cap for Army General officer of Socialist Republic of Romania. Made by khaki
cloth then attached cap band and base for cap badge colored red which is
the depertment color of infantry. The cap insignia is attached on the center of cap
emblem which is drawn the nature of Romania( Sun, Forest and mountain ) then
embroidery of oak leaves are given around the cap insignia. The cap visor has also
two rows embroidery of oak leaves.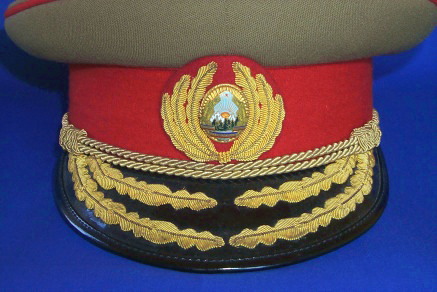 帽章と鍔の刺繍の拡大写真です。

Above photo is enlarged one for cap emblem and embroidery on the visor..