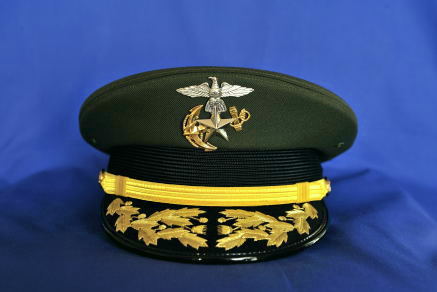 大韓民国海兵隊の将官用制帽です。帽章には中心に星と錨、星の頂点に
は銀色の鷲が表されています。クラウン部分はカーキグリーンで、フレーム
部には黒のバンドが巻かれています。鍔には黒い布が張られ、陸海空軍と
同様、大韓民国の国花である槿の花、蕾と葉の金糸刺繍が全面に施され、
金色のアゴ紐が付けられています。

The service cap for General officer of Republic of Korea Marine Corps.
The cap emblem has golden star and anchor on the center then silver
eagle is given on the top of star as their symbolic items. The color of cap
crown cloth is dark green then black twilled band is attached around
cap frame. The cap visor is attached black cloth then given golden
embroideries of flowers, buds and leaves of rose of Sharon all over the
cloth by golden thread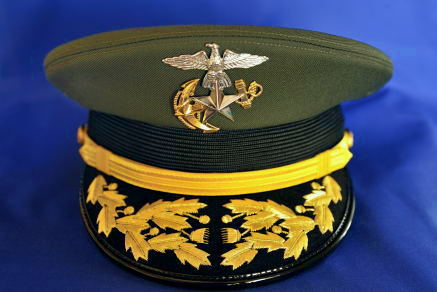 帽章と刺繍の拡大写真です。

Above photo is enlarged one for cap emblem and embroidery..