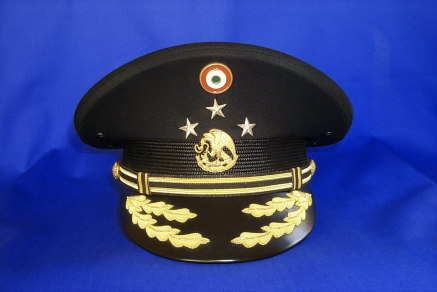 メキシコ合衆国陸軍中将の制帽です。帽子は黒いの生地で作られ、
帽章は、金色の金属製で、岩に生えたサボテンに蛇を咥えた鷲がとまり、
オーク葉とローレルの葉のリースが囲んでいる、メキシコ合衆国の紋章に
なっています。帽章の周りに、銀色の階級を表す星が付けられ、3つ星は
中将を表しています。クラウン部にはメキシコの円形章が付けられています。
鍔は黒の革が表面に張られ、二列のローレルの葉の刺繍が施されています。
アゴ紐は金色で黒い線が入るストラップタイプのものが取り付けられています。

The cap for Army Lieutenant General of United Mexican States. The cap is
made of black cloth then cap emblem is golden metal representing the coat
of arms of United Mexican States. The coat of arms is constructed with
golden eagle holding sidewinder staying on the cactus with oak and laurel
wreath. Silver rank stars are given around cap emblem. Three silver stars
are representing Lieutenant General rank. The cockade of Mexico is given
on the front of cap crown. The cap visor is coated by matte black leather
then given two rows gold embroidery of bay leaves. Attached chin strap
is gold strap type with black line on the center..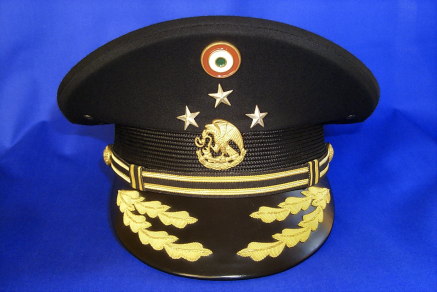 帽章と鍔の拡大写真です。

Above photo is enlarged one for cap emblem and visor.

・Previous Page