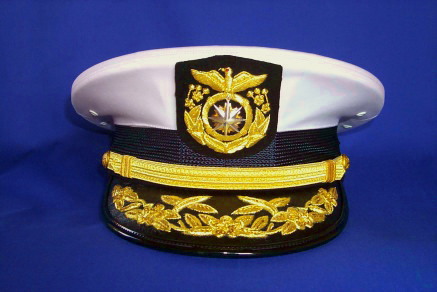 海上保安庁の一等海上保安監以上の階級用制帽の金糸刺繍のタイプです。
海上自衛隊と同様、鍔と帽章の刺繍にモール刺繍のものと金糸刺繍のタイプ
があります。
The cap for Japan Coast Guard Officer upper Superintendent 1st-Grade
with gold wire embroidery. Same as the cap of J.M.S.D.F, there are two
type of embroidery on the visor and cap emblem with bullion or gold
wire.


帽章と鍔の刺繍の拡大写真です。

Above photo is enlarged one for cap emblem and visor embroideries.

・Previous Page.