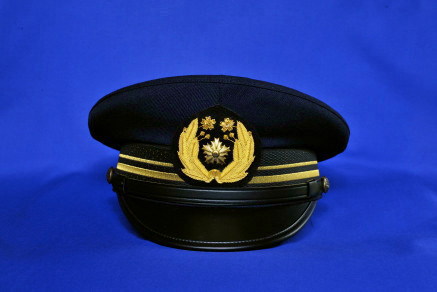 警察の警視監/警視長用の現行制帽です。警察官の制帽/制服
は1994年4月に現在の新しいモデルに変更されました。
帽章は旧型と異なる意匠になりました。新しい帽章は旧型と比べ大型
になり、日章を囲む桜葉、蕾と花のリースのデザインも変更になりました。
旧型は、片側に桜葉が3枚、桜花と蕾が2つでしたが、新型は片側に
桜葉が6枚、蕾が2つと桜花が1つになりました。また、フレーム部の
階級を表す帯章も、旧型では金の蛇腹線で階級を表しましたが、新型
では黒い斜子織りに金色の線が織り込まれています。写真の制帽は
3ミリと6ミリの金線が警視監/警視長の階級を表しています。
顎紐と鍔も艶消しタイプに変更になり、顎紐を留めている耳章も燻し
タイプのデザインになっています。
警視監は県警察では本部長、警視庁では副総監や部長クラスの階級で、
警察長長官や警視庁の警視総監を除くと、日本の警察組織では、略
最高位の階級となっています。

The service cap( current model ) for the Police Superintendent Supervisor/
Police Chief Superintendent of municipal Police. Service cap and uniform
for police officers were changed on April 1994 to current new model.
The cap emblem was changed its design. New cap emblem is larger then
last model and changed the design for embroidery of wreath of cherry
leaves, buds and blossoms. The design of last model has three cherry
leaves, two buds and two blossoms in one side but new model has six cherry
leaves, two buds and one cherry blossom in one side. Also rank insignia
around cap frame was changed.The rank insignia of last model was used
black mohair band and gold russian braid but new model's rank insignia is
used black band woven gold line in advance. The cap on photo has two
gold line in 3 mm and 6 mm presenting the rank Police Superintendent
Supervisor or Police Chief Superintendent. The cap chin strap and peak
are changed to frosted model from glossy model then seal on buttons for
holding chin strap are changed to oxidation metal type. The rank Police
Superintendent Supervisor is appointed to Chief of Police.of Municipal
Police, Vice Superintendent General or Chief of Department of the
Metropolitan Police Department. Such rank is nearly highest rank in
police organization except Director General of National Police Agency
and Superintendent General of Metropolitan Police Department.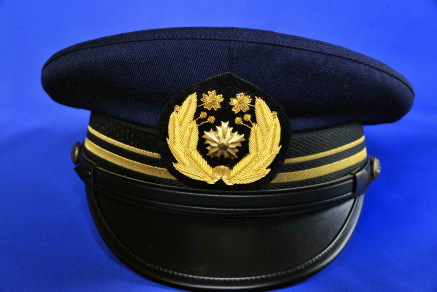 帽章と帽帯章の拡大写真です。

Above photo is enlarged one for cap badge and cap race around frame..

・Previous Page.