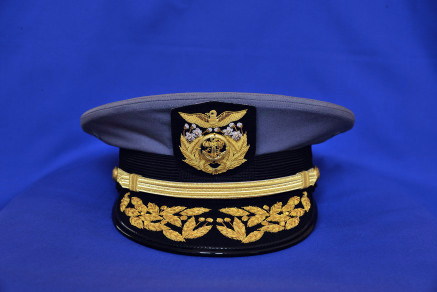 海上警備隊/警備隊及び海上自衛隊の旧型将官用制帽です。
海上自衛隊は、海上警備隊(1952年4月26日〜7月31日)、警備隊
(1952年8月1日〜1954年6月30日)と組織名が変わり、1954年
7月1日から現在の海上自衛隊となりました。1958年までは白い夏服は
存在せず、1996年7月で廃止された青灰色で背広タイプ第一種夏服が
夏服でした。着用の際は、制帽のトップを同色の青灰色のものに交換して
使用されました。将官や佐官の制帽の鍔に施される刺繍は、現在のものと
同じデザインでしたが、帽章は現在のものと異なり、現在の海上保安庁の
帽章のデザインに似た帽章が使用されていました。
帽章は絡み錨を配した円形の楯を、桜の葉と花を配したリースが囲み、
楯の上部に海鷹を配したデザインでした。将官用の制帽は、鍔の全面に
桜の葉と蕾の金モール刺繍が施されています。

The cap for Maritime Security Force/Safety Security Force and J.M.S.D.F
Admiral last model. J.M.S.D.F was changed its name as Maritime Security
Force(1952/4/26-7/31) and Safety Security Force(1952/8/1-1954/6/30)
then founded as current J.M.S.D.F from 1954/7/1. The summer white uniform
was not existed until 1958 then there was just existed blue gray and single
breast open collar summer uniform called summer uniform the first kind which
was abolished on 1996/7. When the summer uniform was worn, the cap top was
changed to same color top. The design of embroidery on the cap peak for
admiral and commanding officer was same with current model but the cap
emblem was used different designed model. The last model cap emblem was
similar design with current cap emblem for Japan Coast Guard. The cap
emblem has round shield with foul anchor on the center then surrounded
wreath of cherry blossoms and leaves and also given osprey on the top.
The cap for admiral has embroidery of cherry leaves and buds whole of
cap peak.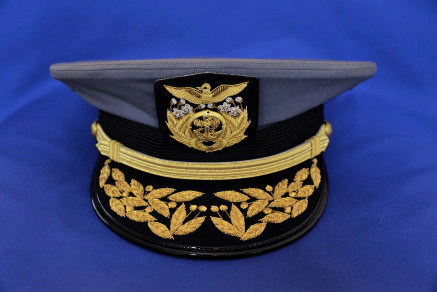 帽章と鍔の刺繍の拡大写真です。

Above photo is enlarged one for cap emblem and visor embroideries.
・Previous Page.