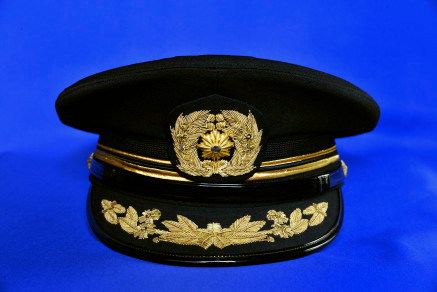 警視庁/県警察の警視監/警視長用の冬用儀礼帽です。勤務用の制帽
制服は1994年にデザインが変更されましたが、儀礼用の制帽/制服は
変更はされていません。冬用の儀礼帽と儀礼服は旧冬用制服の濃紺
ではなく黒となっています。鍔には桜の花と蕾と葉を表す金色のモール
刺繍が施されています。階級によって刺繍のデザインが異なり、中心部分
に大型の桜の花と、左右両側に小形の桜の花が2つづつ施されているのは、
警視監、警視長、警視正用です。この儀礼帽はフレーム部分に施されている
帽周章は、3mの金の蛇腹線と6mの金の蛇腹線で、警視監/警視長用と
なっています。儀礼用の帽章は片側が桜葉8葉と2本の蕾のリースに、
8角形の正章となっています。顎紐は黒いエナメル加工の施された
革タイプで、顎紐止めの旭日章は金色となっています。
The winter dress cap for Superintendent Supervisor/Chief
Superintendent of the Metropolitan Police Department and Municipal
Police Department.. The service cap and uniform were modified on 1994
but Dress cap and uniform are not modified. The color of winter dress
cap and uniform is not dark blue as the color of last winter service
cap and uniform but black color. The cherry blossoms, buds and leaves are
given as gold bullion embroidery on the cap visor. The patterns of bullion
embroidery are classified with ranks. The design with large cherry blossom
on the center and two small cherry blossoms in both sides is for
Superintendent Supervisor/Chief Superintendent/Senior Superintendent.
This cap has 3 mm and 6 mm of gold Russian braids around cap frame with
12 mm of black tapes. That rank pattern is presenting the rank of
Superintendent Supervisor/Chief Superintendent. The cap emblem for dress
cap has eight pointed sunburst on the center as formal insignia with cherry
wreath embroidery with eight leaves and two buds in both sides.. The chin
strap is black patent leather type with gold five pointed sunburst as
buttons for holding chin strap in both sides.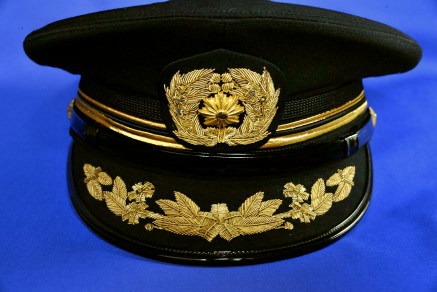 帽章と鍔の刺繍の拡大写真です。

Above photo is enlarged one for cap emblem and visor embroideries.