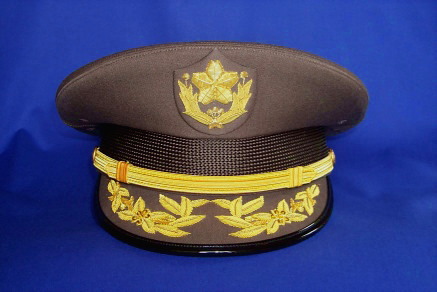 70年式の陸上自衛隊の将官用礼帽です。70年式は58年式の色、デザイン
の不評から1970年の改正で色、デザインが改良されました。色は紺灰色
から茶灰色に変わり、帽章が鳩と旭日から桜の花を基にした桜星に変更
されました。
帽章の中央には新しくデザインされた桜星と周りには蕾を葉をつけた桜の
枝が配されています。鍔には同色の布が張られ桜の葉と花の刺繍が
施されています。将官用と佐官用の違いは桜の葉の枚数です。将官用は
佐官用より6枚葉の枚数が多くなっています。
The dress cap of 70's model for J.G.S.D.F general officer. The revision of
uniform on 1970 was planed because of unpopularity of color and design of
58' model. The color and design were changed by 70's revision. The color
was changed fm blue gray to brown gray then pigeon and rising sun were
changed to cherry star which was designed basis on cherry blossom.
The large cherry star is put on the center of cap emblem then cherry
branches with buds and leaves are given around it.
The cap body color is brown gray then same color cloth is attached on the
cap visor. The embroideries of cherry flowers and leaves are given on it.
The difference of embroidery between general officer and field grade officer is
the number of cherry leaves. Cap for general officer has additional 6 leaves
than field officer's cap.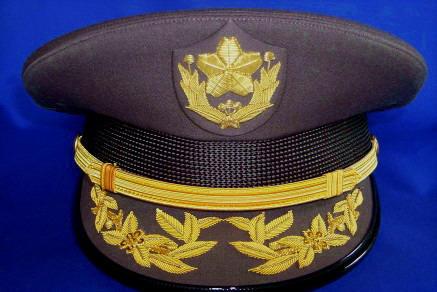 帽章と鍔の刺繍の拡大写真です。

Above photo is enlarged one for cap emblem and visor embroideries.