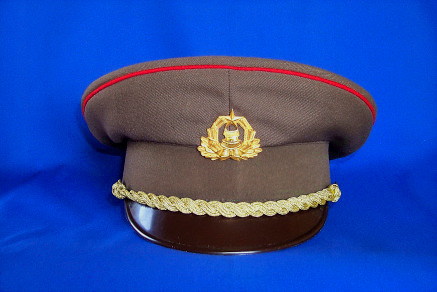 ハンガリー人民共和国陸軍の将官用の制帽です。共産主義時代の
将官用も三色の円形章ではなく金属製帽章でした。帽章は共産主義の
象徴である星を頂点に、オーク葉と麦の穂のリース、中央にハンガリーの
国土の形をした楯を配したものになっています。帽子のクラウンの周りには
赤いパイピングが施され、アゴ紐は金色の編んだタイプの物が付けられています。
The cap for Army General of People's Republic of Hungary. The cap for
general officer of communistic era has not tricolor cockade like for officers'
cap badge but metal cap badge. The cap badge has a star as a symbol of
communism on the top of cap badge, wreath of oak leaves and ears of malt
and shield shaped entire area on the center of cap badges. Red piping is given
around cap crown then gold Knitted chin strap is attached..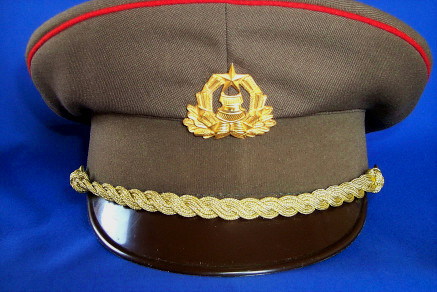 顎紐と帽章の拡大写真です。

Above photo is enlarged one for chin strap and cap badge.