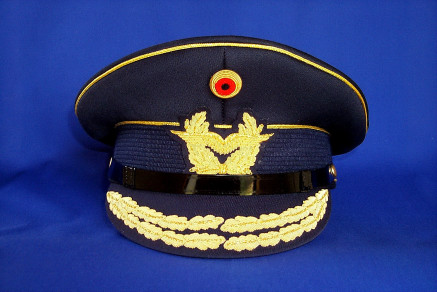 ドイツ連邦共和国空軍の将官用制帽です。帽子の鍔には紺色の布が張られ、
2列の柏の葉の刺繍が施されています。帽章も柏の葉と翼がデザインされ、
クラウンとバンドのパイピング、顎紐のボタンも金色になっています。帽章の上部には、
ドイツ国旗のコカルデが付けられています。

The cap for Air Froce General of Federal Republic of Germany. The cap for General
Grade Officer has gold embroiders of Oak leaves with two rows on the visor which attached
dark blue cloth same as cap body. The cap emblem is designed basis oak leaves and wing.
It has gold piping around cap crown and cap band then attached gold button for chin strap.
One cockade of Germany flag is attached on the front of cap crown.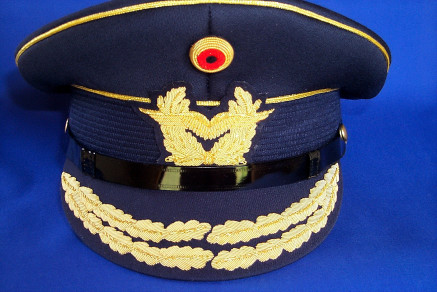 帽章と鍔の刺繍の拡大写真です。

Above photo is enlarged one for cap emblem and embroidery on the visor..