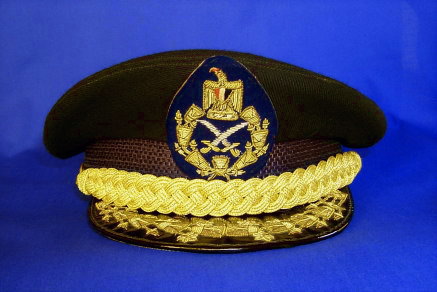 エジプト・アラブ共和国国家警察の将官用制帽です。将官用の帽章は、
紺色の台地にエジプトの国章である、3色の楯を持つ鷹と、将官を表す
交差した剣、パピルスのリースの刺繍が施されています。帽子は紺色
で、フレームには紺のモヘアのバンドが巻かれています。
顎紐は金色の太い編タイプで、鍔にはパピルスの刺繍が施されています。
警察の将官用と佐官用は同様の鍔の刺繍と顎紐ですが、帽章が
異なっています。

The cap for General officer of National Police of Arab Republic of Egypt.
The cap emblem for general officer has embroidery of an eagle with
tricolor shield as coat of arms of Egypt, crossed swords and wreath
of papyrus on dark blue base.The cap crown and body are dark blue
then same colored mohair band is attached around cap frame.
The fat golden braid type chin strap is attached then embroidery of
papyrus is given on cap peak. The cap for police general officers and
police field officers have same chin strap and embroidery on cap
peak but cap emblem is just different.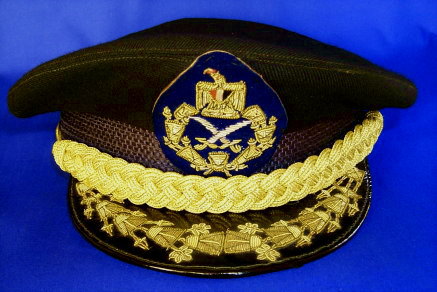 帽章と鍔の刺繍の拡大写真です。

Above photo is enlarged one for cap emblem and visor embroideries.