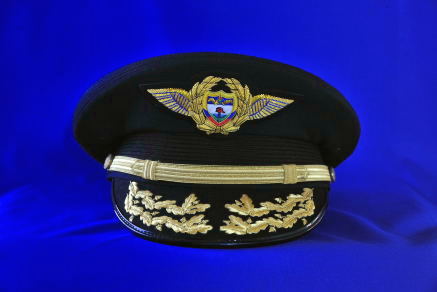 コロンビア共和国空軍将官用の礼帽です。勤務用の制帽は青となっており、
顎紐も黒い革製のものが取り付けられますが、礼装用は色が濃い紺色となり、
顎紐も金の平織金線がつけられたものとなっています。
帽章は陸軍と異なり、刺繍されたものとなっています。中央にはコロンビアの
国章にも表されている3部に分かれた楯、それを囲む月桂樹のリースと空軍を
表す翼となっています。鍔には黒い生地が張られ、オーク葉と団栗の刺繍が
二列施されています。この鍔の刺繍はアメリカ海軍の佐官用の刺繍のデザイン
に似ています。フレームには濃い紺色のモヘアバンドが巻かれ、金色の
平織金線が付けられた顎紐は、空軍のシールが施されたボタンで留められています。

The dress cap for Air Force General of Republic of Colombial. The service cap's
color is blue then attached chin strap is black leather type but dress cap is made by
dark blue cloth then chin strap is attached plane woven gold lace on its surface.
The cap emblem is embroidery type different with army's emblem. The center of
the cap emblem, the shield which is parted by three parts and it's also a part of
coat of arms of Republic of Colombia., and surrounding wreath of laurel leaves with
wings which are presenting Air Force. On the cap peak, black felt is attached then
gold embroidery of two lows oak leaves and acorns. The design of embroidery of
the same is very similar with the design of embroidery of senior office of U.S Navy.
Around the cap frame, dark blue mohair band is attached then cold chin strap is
fixed by two buttons which has seal of Air Force.


帽章と鍔の拡大写真です。

Above photo is enlarged one for cap emblem and visor.

・Previous Page