ブラジル連邦共和国海軍の将官用制帽です。他の海軍同様、フレームには黒い
バンド、クラウン部は白、金色のあご紐になっています。鍔にはオークの葉と実の
刺繍が施されています。鍔の刺繍は将官用でも2種類あり、准将や少将用の
ものは葉や実の数が少なくなっています。この制帽は大将などの高官用です。
帽章は月桂樹のリースと中央には銀色の錨、頂上にはブラジルの国家紋章の
5点星が配されています。

The cap for Navy Admiral of Federative Republic of Brazil. It has a black
band around cap frame and cap crown is white top then attached gold chin strap
same as other nations' navy officer's cap. The embroidery of oak leaves and acorns
is given on the cap visor. There are two types of design for visor embroidery then
embroidery for Rear Admirals' cap has less number of oak leafs and acorns.
This cap is for Vice and Full Admiral. The cap emblem has silver anchor in the center
of emblem and laurel wreath is given around it then large golden star is also given
the top of emblem which is the five pointed star of the coat of arms of Brazil..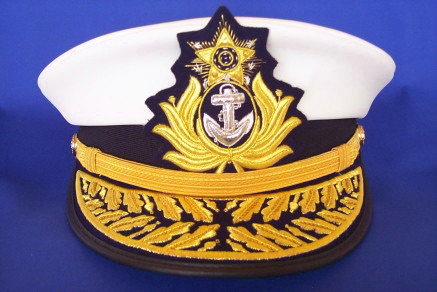 帽章と鍔の拡大写真です。

Above photo is enlarged one for cap emblem and visor.

・Previous Page