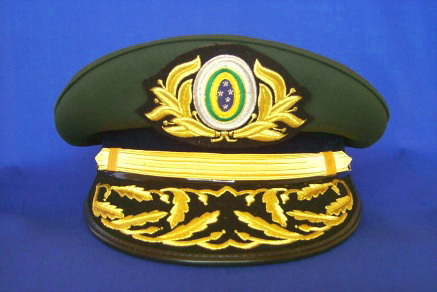 ブラジル連邦共和国陸軍の将官用制帽です。帽子はダークグリーンの生地で作られ、
帽章は、中央にブラジルの国旗である、緑と金色と独立宣言をした日のリオデジャネイロ
の空を基にした国章を、月桂樹のリースが囲っています。鍔には黒い生地が張られ、
オークの葉の刺繍が施されています。また、顎紐も金色の物が使用されています。

The cap for Army General of Federative Republic of Brazil. The cap is made of dark green
cloth then cap emblem has a cockade that is based on Brazil's Flag which is constructed
green, gold and sky seen at Rio de Janeiro on Nov 15th,1889( The day of Declaration of
Independence )and laurel wreath around cockade. On the visor, black cloth is attached and
embroidery of oak leaves and acorns are given on the visor. Also gold chin strap is attached..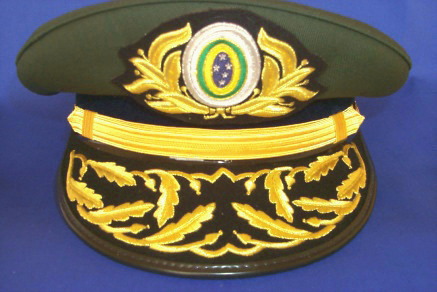 帽章と鍔の拡大写真です。

Above photo is enlarged one for cap emblem and visor.

・Previous Page