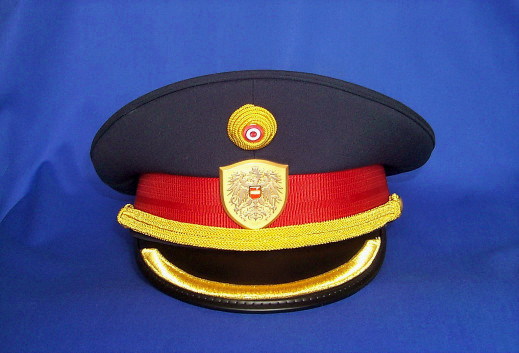 オーストリア共和国国家警察の将官用制帽です。帽章は金色の金属で
オーストリアの国家紋章の紅白の楯を持った金色の鷲が浮き彫りに
されています。帽章の上部には金色のモールで囲んだ紅白の円形章が
付けられています。フレーム部には赤のバンド、アゴ紐は紐タイプですが、
モール刺繍を施したものが付けられています。鍔には将官を表す金色の
刺繍が鍔の周りに施されています。

The cap for General Officers of National Police of Republic of Austria.
An embossed eagle which is holding red and white shield, as the coat
of arms of Austria is given on the golden metal cap emblem.
The red and white cockade with gold bullion embroidery is attached on
cap crown.The red cloth is attached around cap frame and chin strap
is golden code type with embroidery around code. The golden embroidery
with gold thread is given on cap visor as symbol of general officer.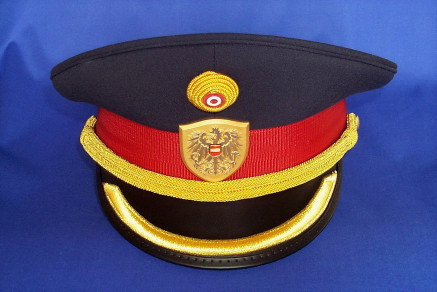 帽章と鍔の刺繍の拡大写真です。

Above photo is enlarged one for cap emblem and visor embroideries.