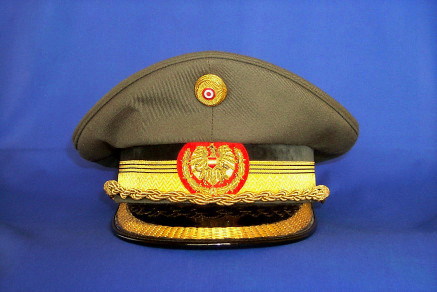 オーストリア共和国陸軍の大将用制帽です。帽章にはオーストリアの
国家紋章の紅白の楯を抱く鷲と鷲の周りにはオーク葉と実が配されて
います。フレームには大将の階級を表す金色の太線と細線3本のバンドが
巻かれ灰茶色のクラウン部には赤と白の円形章が付けられています。
アゴ紐は金色の紐タイプですがねじった状態で取り付けられています。
鍔の周りには将官を示す金色の刺繍が施されています。

The cap for General of Army of Republic of Austria. An eagle holding red
and white shield, as the coat of arms of Austria, and oak leaves and acorns are
around that eagle as cap emblem. On the cap frame, attached black cloth
with one gold wide line and three narrow lines as rank insignia presenting
General and cockade of Austria is attached on cap crown colored gray brown.
The chin strap is golden cord attached in twisted condition. Embroidery is
given around cap visor which is presenting as general grade.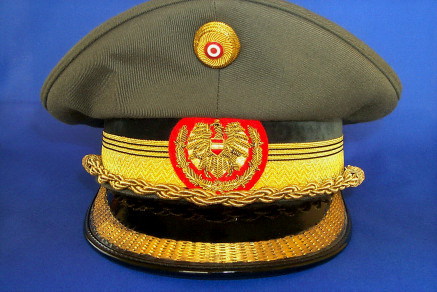 帽章と鍔の刺繍の拡大写真です。

Above photo is enlarged one for cap emblem and visor embroideries.